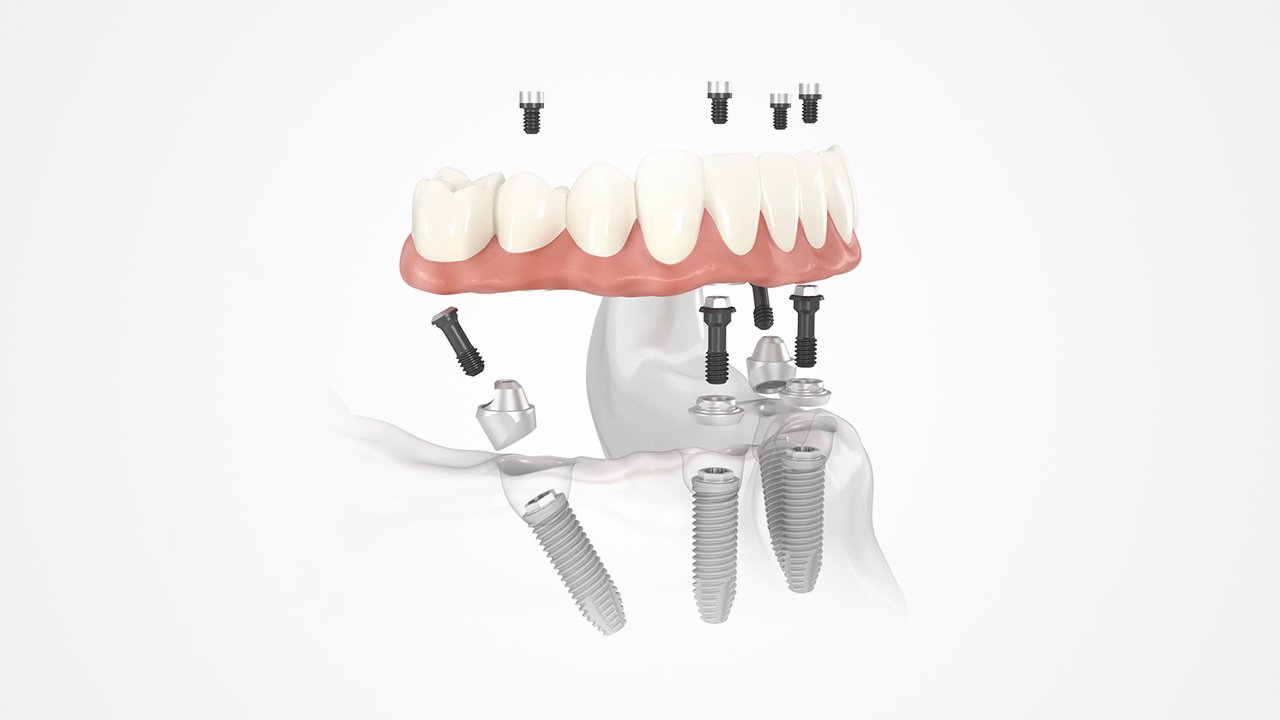 What is the application of all on four implant?
All on four implant application is a procedure for immobilizing dental prostheses on four dental implants placed at certain angles in patients mouth without complete teeth.
Who can be applied all on four implant application?
All on four application can be practiced on all toothless patients with sufficient bone volume and it can be applied to our patients who do not have any systematic diseases that would prevent the operation.
What are the phases of the all on four application?
The patients who are planned to undergo all on four procedure require a detailed radiological and clinical examination. Measurements are made according to the computed tomography results and a suitable planning is performed. All on four application consists of two main phases as surgical and dental prosthesis. 4 implants are placed in accordance with the planning on the first day of treatment. Then, temporary dental prosthesis is fixed on the dental implant on the same day. Permanent dental prostheses are applied 3 months after the surgery.
What are the advantages of all on four implant application?
It allows fixed dental prosthesis to be applied to the patients without teeth with a single surgical intervention on the same day.
The operation time to do dental implant is shorter.
The cost is lower than classic dental implant because the number of implant is less and there is no need for an additional surgical procedure.
Cleaning and maintenance are more comfortable than fixed dental prostheses over classic dental implants.
It provides an aesthetic appearance because it is specifically designed for the patient.
It is suitable for the patients having problems with removable dental prostheses.
It doesn't cover the whole palate and its usage is easier because its design is different from complete denture.
Should I be afraid of all on four applications?
All on four treatments are easily performed under local anesthesia. Treatment may be completed under sedation or general anesthesia in patients with severe anxiety and fear.
Which department administers all on four treatment?
Patients who wish to have all on four treatment can consult with our prosthetic dental specialists.
How am I supposed to feed myself after all on four treatment?
You can use temporary dental prostheses fixed on dental implants after all four applications. The fusion process of the dental implants and bone is 3 months. You should follow the diet recommended by your doctor during this period. You can feed as you wish with your permanent prosthesis after the 3-months period required for the dental implant to fuse.